Ongoing Projects
USAID TB-LON Project
The United States Agency for International Development (USAID) established Local Organizations Networks (LON) to rapidly increase the level of tuberculosis (TB) cases detected and treated in Nigeria over the next five years (2020 -2025).
Institute of Human Virology Nigeria (IHVN) is implementing the USAID TB LON project in Lagos, Osun, Ogun and Oyo states.
Some objectives of the project are,
Improving access to high-quality, person-centered treatment for tuberculosis, drug-resistant tuberculosis and TB/HIV.
Strengthening systems and structures for tuberculosis detection, treatment and notification.
Reducing transmission and progression of tuberculosis
Accelerating tuberculosis research and innovation to improve the quality of programs implemented.
Services rendered in health facilities and communities by this project include,
Active screening for TB in identified hotspots in the community, and during TB outreaches.
TB screening for all patients at various service delivery points in health facilities supported by USAID TB LON project.
Testing of all presumptive TB cases using Gene Xpert machine, and provision of Chest X-ray services to presumptive TB cases (children and adults) who are unable to produce sputum.
Enrolment of confirmed TB patients on treatment, and notification of patients into the National TB reporting system.
Contact tracing of index TB (bacteriological) patients to provide TB services.
The project engages Community Based Organizations (CBOs) and Community Volunteers (CVs) for contact tracing of index TB cases enrolled for treatment, community outreaches and sensitization meetings in communities. We also collaborate with private providers such Patent Medicine Vendors, Traditional Birth Attendants, Community Pharmacists, and Traditional Medicine healers to screen clients and refer identified presumptive TB individual to TB LON 3 supported facilities.
As at December 2020, the project supported the provision of tuberculosis as follows,
125 health facilities in 20 Local Government Areas (LGAs)in Ogun State
142 health facilities in 20 LGAs in Lagos State
99 health facilities in in 24 LGAs in Oyo State
107 health facilities in 30 LGAs in Osun State
IHVN TB LON 3 Achievements as at March 2021
S/No
Results
Figures
1
Number of people screened for tuberculosis
2,168,356
2
Number of presumptive TB cases identified
114,183
3
Number of tuberculosis cases notified
11,134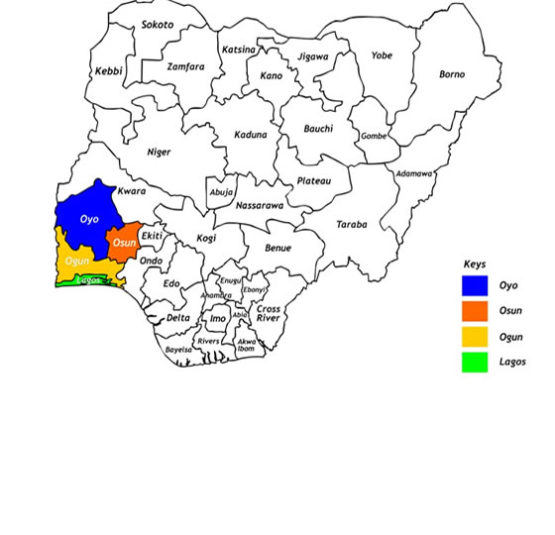 Map showing the states where IHVN is implementing the USAID TB LON project