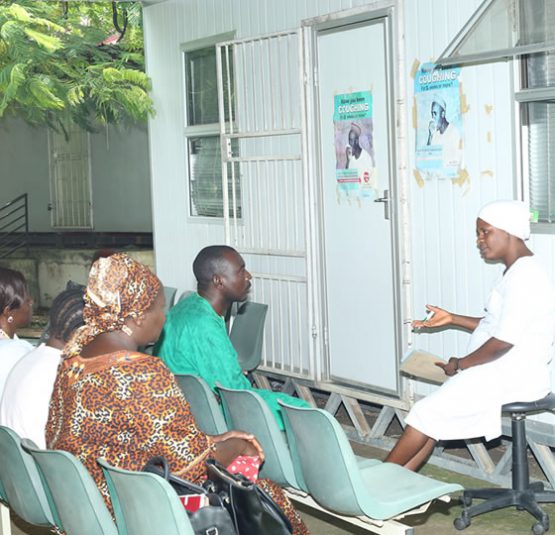 A health care worker creating awareness about TB at the Clinic-in a -Box provided by IHVN in UATH, Gwagwalada
TB/ Drug Resistant TB Services
We are working to reduce the burden of TB in the country and reach more than 60% of Nigerians who access health care in the private sector.
Public Private Mix (PPM) :
In 21 Nigerian States namely, Edo, Delta, Cross River, Akwa Ibom, Benue, Oyo, Ondo, Osun, Ogun, Kogi, Niger, Sokoto, Plateau, Nasarawa, Kaduna, Anambra, Enugu, Rivers, Imo, Abia, and Ebonyi we are scaling up tuberculosis prevention, diagnostic and treatment services through private sector engagement. The objective is to engage private and public health care providers in the fight against tuberculosis using international health care standards.
This involves collaboration with Private-for-Profit hospitals, faith-based hospitals, private laboratories, patent medicine vendors, community pharmacists and traditional birth attendants. Picture
This project also entails
Deployment of a notification application for use by PPM providers nationwide
Maintenance of DR-TB Treatment centers, TB reference laboratories,
NigeriaQual TB to evaluate the quality of TB services rendered for better services
Optimization of GeneXpert machines including transportation support to ship samples for diagnosis, and treatment follow-up
Resource mobilization and partnerships for sustainability in collaboration with the National Tuberculosis and Leprosy Control Programme (NTBLCP).
The Public Private Mix project is funded by the Global Fund to fight HIV, TB and Malaria.
Achievements as of March 2023, include;
175,867 tuberculosis cases notified by private/non-government facilities

6,515

 

Multi-Drug Resistant tuberculosis patients enrolled for treatment
1,000 Rifampicin Resistant and Multi-Drug Resistant tuberculosis cases notified
Also funded by the Global Fund from 2011 to 2018 was the "Global Fund Multi-Drug Resistant Tuberculosis (MDR-TB) grant and the "New Funding Model Grant" to improve accessibility to DR-TB diagnosis, care and treatment services. Pictures
The grant strengthened MDR-TB prevention and control in Nigeria. IHVN partnered with NTBLCP of the Federal Ministry of Health (FMoH) and other stakeholders in the implementation of the scale-up of the Programmatic Management of Drug-Resistant TB (PMDT). Other tasks we implemented were,
Activation and maintenance of 28 treatment centers to provide DR-TB services and 10 TB reference laboratories for DR-TB diagnosis
Infrastructural upgrade, supply of equipment and maintenance of some treatment centres and reference laboratories; and supply of reagents, consumables and data collection tools. The Institute also carried out
Capacity building for treatment centers, laboratory and state TB staff on service provision and data collection
Sputum transportation logistics nationwide to increase case detection;
Strengthening of routine surveillance for drug-resistant tuberculosis at all levels
Establishment and support of State MDR-TB Teams to strengthen oversight and supervision of patients
Training of Local Government Authority team members
Decentralization of outpatient services for the DR-TB patients
Development of structured adherence program for DR-TB
Development of Logistic Management Information Systems for laboratories
Supporting electronic data management through the e-TB manager and GX Alert Software
Maintenance of 106 GeneXpert machines
Procurement and distribution of GeneXpert cartridges, procurement of basic equipment for emergency care for treatment centers to manage critically ill patients and improve treatment outcome
Provision of solar-powered refrigerators for sample storage to reduce sample wastage