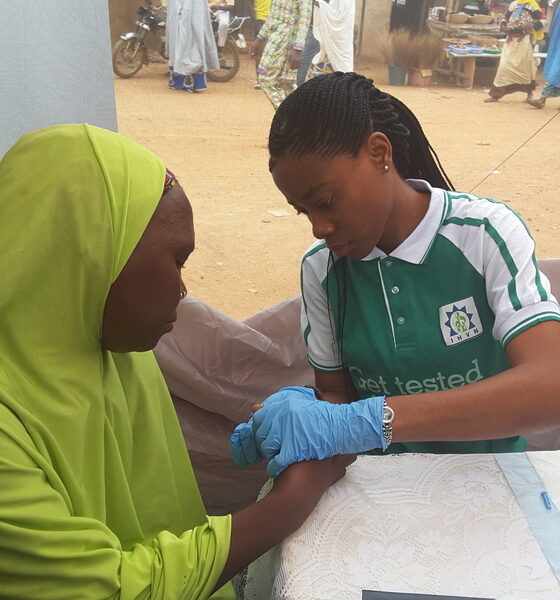 HIV testing in progress during a community outreach to Karmajiji Internally Displaced Peoples Camp in Abuja, Nigeria 
The primary goal is to ensure that 95% of all people living with HIV know their status and are linked to core HIV AIDS services within the four states supported under the ACTION to Sustain Precision and Integrated HIV Response towards Epidemic Control (ASPIRE) project namely Federal capital Territory (FCT), Katsina Nasarawa, and Rivers States.
Key Populations (KP):
The mandate is to locate and reach out to the KPs including, Men having Sex with Men (MSM), Female Sex Workers (FSW), People Who Inject Drugs (PWID) and Transgender persons (TG). The KPs are targeted to disrupt the transmission chain of HIV  by finding those living with HIV, by offering prevention services and by linking them to appropriate treatment, care and support services.
Strategies employed include strategically testing KPs who are likely to be positive using a risk profile-based approach. This approach relies on behavioral and biological markers for HIV. To this end, testing is done for  all KPs presenting with sexually transmitted infections (STIs), low condom use, high risk sex, and KPs with sero-discordant partners.
ACHIEVE Project is collaborating with some reputable Community Based Organizations towards the achievement of its objectives.