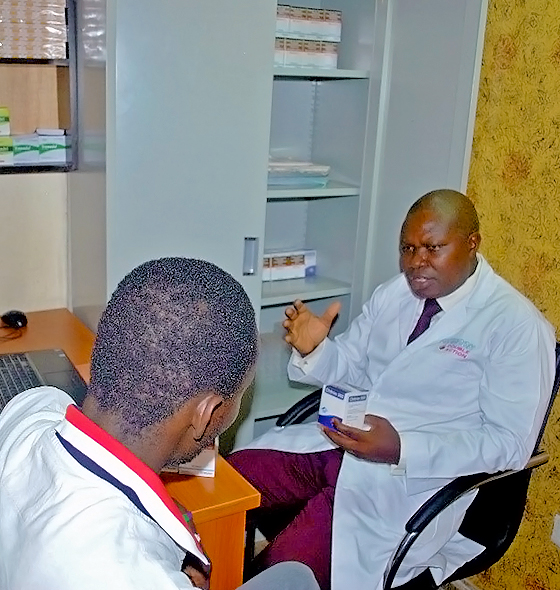 Community Pharmacist Osieyih Oseborega counsels a client receiving drug refills through the Differentiated Service Delivery Program of the Institute
Capacity Development of Hospital Pharmacists
The main focus of the capacity development is to train pharmacists on HIV/AIDS treatment and care. An official training manual consistent with the Nigerian National Treatment Guidelines for the training of pharmacists has been developed. We have also developed multiple tools, Standard Operating Procedures (SOPs) and guidelines to assist the pharmacists and to entrench the basic principles of GPP.
Drug Management
We have carried out renovation of facilities; drug quantification, procurement, and distribution, storage, and data management. Using procurement's standard operating procedures and guidelines, we ensure that drugs are procured through reputable international and local vendors. Also, to maintain the quality of drugs, drugs are stored in warehouses at manufacturers' recommended temperatures.
For drug distribution, we employ the use of software that allows the monitoring of stock level. This minimizes drug stock-outs or over stocking situations. We work with pharmacists to monitor the temperature of the storage facility daily for optimal quality of drugs. Managing waste is a very important component of drug management; therefore, in collaboration with NAFDAC, expired drugs are destroyed and disposed according to international guidelines.
IHVN has also been committed to ensuring that all facility infrastructures meet the highest standards for pharmaceutical service. Assessing and renovating health facilities before usage for the HIV program is usually done. We have developed a tool for site assessment with which infrastructural defects can be evaluated and necessary renovation effected in a timely manner.
Drug safety
Our focus here is pharmacovigilance and monitoring the quality of antiretroviral regimens and medication errors. Adverse drug reactions constitute a great challenge to adherence to antiretroviral drugs. Under the pharmacovigilance initiative, these reactions are reported and documented using the standard tool.
Operational Research
In the Pharmacy Division, we conduct OR in order to improve the services we provide to the patients as well as answer critical questions that affect the delivery of our services. We have published studies covering adherence to ART, drug safety, chronic care, differentiated care and pharmacovigilance.
Design and implementation of health initiatives
We design and implement health projects to  increase access to drug therapy and drug safety. Some of the notable projects include the Community Pharmacy Antiretroviral Therapy Programme and the Pharmacovigilance System for detecting and reporting  adverse drug reactions (ADRs).
Unit contact email: [email protected]