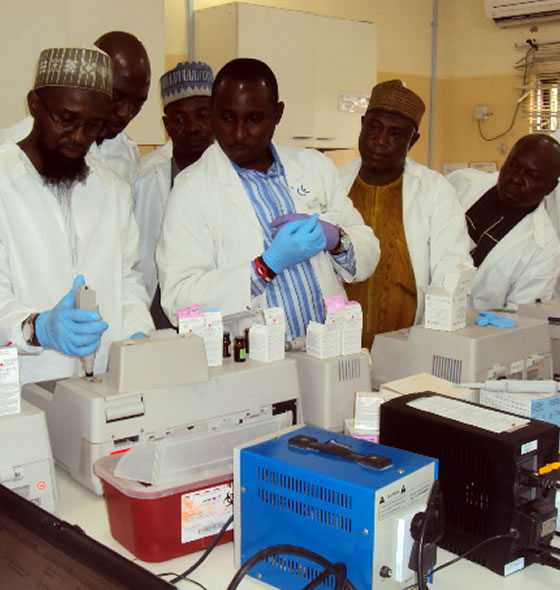 Laboratory staff receive training on equipment maintenance at Aminu Kano Teaching Hospital, Kano
Supervising the use of laboratory equipment in all program areas such as Anti-retroviral Treatment, Molecular Diagnostics, Clinical Chemistry, Microbiology, Tuberculosis, Research (including cancer research, malaria, haematology, training laboratories) etc.

Carrying out installation, certification, maintenance and repair services, and conducting trainings on major laboratory equipment.

Servicing of the Heating and Ventilation Air Conditioning (H-VAC) unit of the BSL3 laboratory.
The Unit produced the only two NSF Accredited Biosafety Cabinet Certifiers in West Africa. With funding from ASLM, the unit has also certified Bio-Safety Cabinets in Gambia and Burkina Faso.
Our Activities/Strategies:
Assess health facilities, install appropriate equipment.
Train operators on the use, care and maintenance of the laboratory equipment.
Monitor and carry out preventive maintenance, repairs on all laboratory equipment.
Keep records for all laboratory equipment (eg. installation, warranty, preventive maintenance, fault record/repair and training records).
Certify and calibrate laboratory equipment.
Liaise with other maintenance service providers on behalf of IHVN.
Recommend appropriate equipment for use in diagnosis and research. to management.
Unit contact email: [email protected]