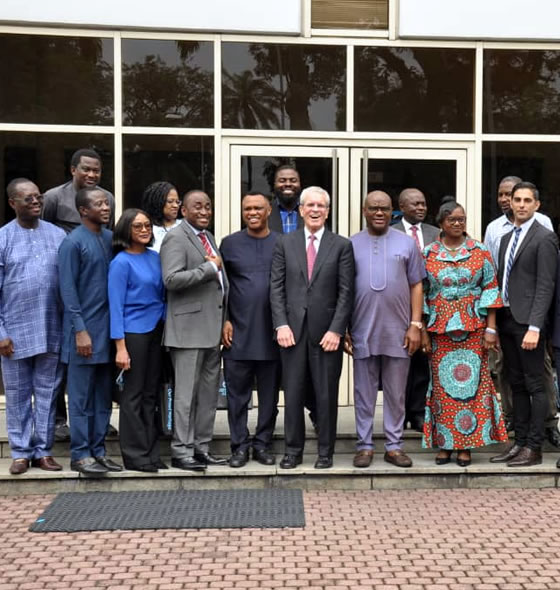 Program Coordinating Unit staff pose for a group photograph with US Centers for Disease Control and Prevention (CDC) HIV Care and Treatment Branch Chief, Dr Tedd Ellerbrock (6th left) and Rivers State Governor, Nyesom Wike (7th left) 
Continuous Quality Improvement (CQI): The CQI sub-unit provides technical support to agencies of the Government of Nigeria and health facilities at national and sub-national levels. We support staff at health care facilities in the application of Quality Improvement (QI) approaches to improve services and strengthen the health system.
The effort of this unit was pivotal in the launch and success of the National Quality Management program for HIV (NigeriaQual) – a project done in collaboration with the University of Maryland program (UMB) and the Federal Ministry of Health. We have trained over 1000 healthcare workers across 19 states in Nigeria on CQI methodology and performance measurement and we continue to support the application of CQI to improve health services.Currently, this team collaborates with UMB to give technical support to National Tuberculosis and Leprosy Control Programme (NTBLCP) in the implementation of a National Quality Management Program for tuberculosis (NigeriaQualTB). We continue to create an enabling environment for innovation and system thinking in the HIV and TB program in Nigeria.The Unit implemented the Training Program in Nigeria for Non-Communicable Diseases Research (TRAPING) grant which sponsored doctoral level training for fellows at various institutions in the UK and US. We have also built the capacity of employees of   other organizations implementing HIV and TB programs, the Federal Ministry of Health (FMOH), Colleges of health technology, Nigeria Nursing Council and Medical & Dental Council of Nigeria.
Training: This sub-unit focuses on the development of high-quality human capital for health by providing logistics support; managing training budgets, training data compilation, and the design and assessment of training programs. In fulfilment of this vision, IHVN has trained over 47,000 health workers all over Nigeria, with funding from the US President's Emergency Plan for AIDS Relief (PEPFAR), Global Fund, National Institute for Health (NIH) and other projects. We have trained health workers in laboratory services, biomedical, behavioral and social science research areas for improved prevention, care and treatment of HIV/AIDS, TB and other infectious and non-infectious diseases.