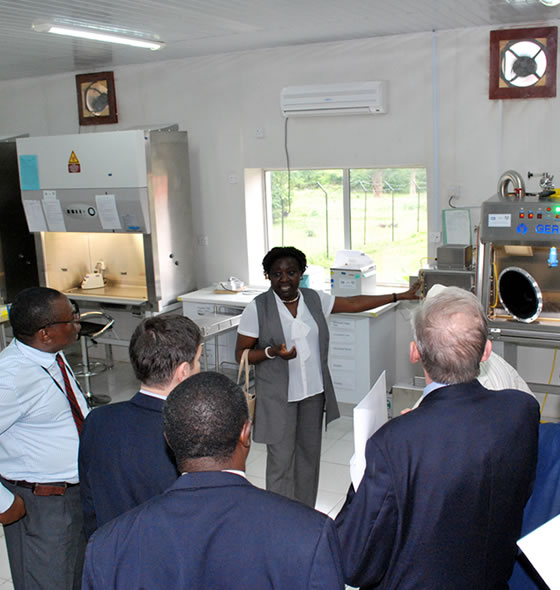 IHVN Executive Director Laboratory Services, Prof. Alash'le Abimiku, leading a visiting US Centers for Disease Control and Prevention (CDC) team on a tour round the BSL 2 laboratory in Zaria, Nigeria.  
Establishment of a network of three bio-repositories (Abuja, Jos and Zaria) expanding to become the H3A West Africa Regional Biorepository providing support to 12 H3Africa funded projects and investigators in 5 African countries.
Providing technical support to set up a functional National biorepository at the NCDC National Reference Laboratory in Gaduwa.
Design and set up the National Influenza Laboratory at Asokoro District Hospital with funding from US-CDC.
Providing Technical Assistance in the establishment of functional Mega PCR laboratory at National Reference Lab (NRL) coordinated through NCDC.
Providing technical assistance to Antimicrobial Resistance (AMR) surveillance sites and National Reference Laboratories of NCDC in implementing the External Quality Assurance program, including the Veterinary diagnostic laboratories.
Supporting the National TB and Leprosy Control Program in providing Proficiency Testing panels for AFB Microscopy, GeneXpert, Line Probe Assay and TB Culture & Drug Susceptibility Testing. IHVN provides Technical Assistance to Government of Nigeria on Post Market Verification (PMV) of HIV Rapid Tests Kits, GeneXpert MTB/RIF Cartridges and other kits and reagents. Etc.
For more information, check, Clinical Laboratory Training, Laboratory Equipment Maintenance, Molecular Diagnostics, Bio-repository Services, Quality Improvement, Clinical Laboratory TB Services and Clinical Diagnostics. (tags please)
For more information about our bio-banking activities, visit, www.i-hab.org