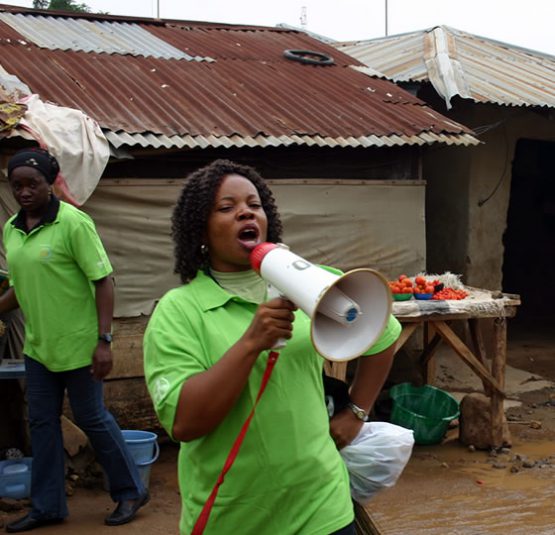 Outreach
An IHVN staff sensitizes Mpape community in Abuja on cleaning their environment to prevent malaria.
MALARIA
About Our Malaria Intervention Programme
We have contributed in preventing and treating malaria in 13 states in the country namely, Katsina, Ogun, Kwara, Gombe, Akwa-Ibom, Kano, Kaduna, Borno, Kebbi, Plateau, Kogi, Benue and Jigawa states.
In these states, we worked in 417 public health facilities across 291 local government areas. We distributed Long Lasting Insecticide Treated Nets to over 5 million people through campaigns and routine distribution channels. About 9.8 million people also received treatment with Artemisinin -based Combination Therapy (ACTs) while more than 7 million diagnosis were done for malaria.
All these were achieved between 2009 and 2017 while we implemented the Global Fund Malaria program as Sub-Recipient to the National Malaria Program (NMEP).
Another intervention we provided in preventing and treating malaria is providing women attending Antenatal Care with Intermittent Preventive Therapy (IPTp). More than 730,000 women benefitted from this therapy to prevent malaria in pregnancy between 2015 and 2017. While we implemented this grant, 30,162 health care workers were trained on malaria management.
We remain committed to utilizing opportunities to address malaria in the country.