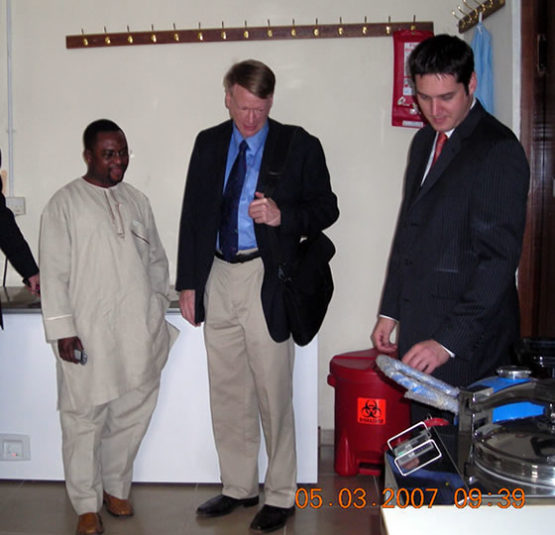 The Institute of Human Virology Nigeria (IHVN) was established in 2004 as an affiliate of the Institute of Human Virology, University of Maryland School of Medicine, Baltimore, USA with the following founding members: Dr. William Albert Blattner, Dr. Alash'le Abimiku, Dr. John Farley, Dr. Patrick Sunday Dakum, Dr. John Vertefeuille, Dr. Abdulsalami Nasidi and Dr. Charles Olalekan Mensah. In furtherance of sustainability goals, the University of Maryland, Baltimore facilitated the re-incorporation of IHVN in March 2004 as an indigenous, non-governmental organization with a new Board of Directors most of whom are local.
However, the groundwork of IHVN started with Dr. William Blattner and Dr. Alash'le Abimiku, both working at the National Institutes of Health (NIH) and conducting early studies to track the emerging HIV epidemic in Nigeria. In 1995, Dr. Blattner in partnership with Dr. Robert C. Gallo and Dr. Robert Redfield co-founded the Institute of Human Virology (IHV), University of Maryland School of Medicine, Baltimore. Drs. Blattner and Abimiku successfully competed for international funding from the US Military, the Bill and Melinda Gates Foundation, and the Centers for Disease Control (CDC) AIDS Program for a University Technical Assistance Program (UTAP) award to support the establishment and growth of IHVN.
When IHVN began, it was like a mustard seed. Dr. Patrick Sunday Dakum, IHVN Chief Executive Officer and Dr. Charles Olalekan Mensah, IHVN Chief Operating Officer and four others constituted the visionary staff who gathered in Chelsea Hotel located in the Central Business District, Abuja to give the Institute a solid foundation.
The Institute later moved to Maina Court on Plot 252 Herbert Macaulay Way in the Central District of Abuja with an annex at the Millennium Plaza adjacent to the Maina Court to accommodate its expanding services. For the sustenance of the Institute's entire infrastructure, which was all in leased properties, and for the enhancement of its operations, the need to build a multi-campus where all its existing assets can be housed and improved upon as a common resource for local and international researchers, became inevitable hence the development and commissioning of the IHVN Campus.
In addressing the HIV/AIDS crisis in Nigeria, through the development of infrastructure for treatment, care, prevention and support for people living with HIV, the challenge was to roll out and scale up HIV care and treatment in a resource poor setting. IHVN was also to train health care providers to tackle HIV/AIDS and other viral infections, and conduct research.
Initial goals were to provide 10,650 new patients with HIV medications. However, managing HIV was beyond dispensing medications. It required training of healthcare workers, quality laboratory services, a treatment adherence program that ensures access to medications and a support structure for adherence to prevent resistance to HIV.
IHVN rose to the challenge and began building Nigeria's capacity to address the HIV epidemic with six tertiary hospitals namely Gwagwalada Specialist Hospital, Abuja, now University of Abuja Teaching Hospital, Aminu Kano Teaching Hospital, University of Benin Teaching Hospital, Benin Nnamdi Azikiwe Teaching Hospital, Nnewi, and University of Calabar Teaching Hospital, Calabar.  Health care workers were trained and laboratories equipped to provide quality services such as heamatology, blood chemistry and CD4 count. Pictures
With much dedication and effort to provide succor for PLHIV, 159 patients commenced treatment in March 2004. 18 years later, IHVN has provided care and treatment to over 770, 000 individuals living with HIV in the country having worked in more than 24 states over the years.
IHVN has now expanded its services to other infectious diseases like tuberculosis and malaria and non-infectious diseases. The Institute's key technical and funding partners include the Centers for Disease Control and Prevention (CDC) and the Global Fund to Fight AIDS, Tuberculosis and Malaria.