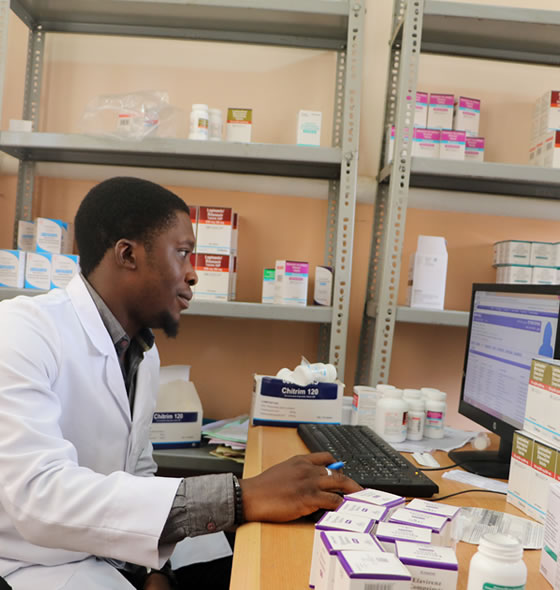 A Health Care Worker in Asokoro District Hospital using the Electronic Medical Health Record System to attend to clients.
Treatment (ART). Other output areas include, pharmacy, prevention of mother-to-child transmission of HIV (PMTCT), care and support, HIV testing services, and laboratory services across all supported health facilities.
The Open Data Kit (ODK), a free and open-source suite of tools that helps organizations author, field and manage mobile data collection solutions is another software implemented by the unit. ODK has been customized to report monthly indicator report  in areas like HIV Counseling and Testing, PMTCT, pharmacy, antiretroviral treatment and laboratory across health facilities supported by the Institute.
Other activities of the unit include;
Electronic Medical Record System development administration, troubleshooting and upgrades. across all supported health/non-health sector facilities.
System upgrade and maintenance to meet national and international standards.
Development of a central repository that will house all data from different sources.
Mobile reporting application that captures indicators from sites to the central repository.
Development and maintenance of data repository for easy visualization of activities.
Provision of software development services to the Human Heredity and Health in Africa (H3Africa) biorepository project.
Oversight and supervision of all Health Management Information System (HMIS) pilots and projects.
Technical support to program areas and supported sites on patient information systems.
Data quality assurance activities that range from data cleaning, gap analyses and validation.
Recruitment, training and supervision of data human resources.
Support for quality improvement program implementation.
Unit contact email: [email protected]